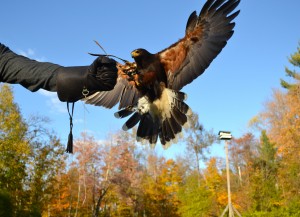 Hawk identification, training, conditioning and hunting methods, the falconers' furniture (equipment), and a rich history are just some of the fascinating aspects of this amazing sport covered during our lessons.  All programs are private bookings and include hands-on interaction with a trained hawk.  Although these sessions do not certify you to practice falconry, you will be guided by one of our licensed falconers, keen to share their passion with you.
GMFS operates from May 1st. – October 31st. by reservation.
Introductory Lesson (45 minutes)
Guests are introduced to the sport of falconry and are taught how to handle and fly a trained hawk
Seasonally priced from $150-$190 for one participant.
Hawk Walk (45 minutes)
This activity takes you on a scenic stroll along wooded trails as your hawk weaves from tree to tree awaiting your signal to return to the gloved fist. (Prior experience on the Introductory Lesson is required.)
Seasonally priced from $180-$240 for one participant.
Lesson and Walk (90 minutes)
Combine the above programs together on one visit for an extended experience.
Seasonally priced from $290-$400 for one participant.
Guests of all ages are welcome; individuals must be 12 years of age or older to handle birds.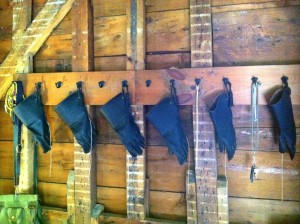 For more information, please see the Make a Reservation page or email Rob at greenmountainfalconry@comcast.net